Welcome to this weeks Carnival of Homeschooling!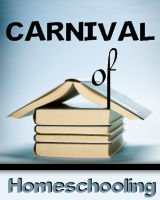 Nebby presents Inspiring Interests in Children posted at Letters from Nebby.
For Carletta from Successful Homeschooling, one thing she didn't want to do when she decided to get in shape was go on a diet.  Here's how she has changed her eating habits so she can lose weight without depriving herself: Eating to Lose – Get Your Groove Back, Part 3.
Barbara from  Barbara Frank Online, says "Some may call us control freaks, but is that a bad thing?"  Read her post to find out: Control Freak Homeschooling Parents?
Janice Campbell presents How to Fit Art and Music into Your Homeschool posted at Taking Time for Things that Matter.
Cristina Payne presents Offer Good While Supplies Last, Selection Varies by Learner posted at Home Spun Juggling, saying, "Relax! Learning is not a limited time offer."
AnnieKate presents Summer Plans Part 3: Contracts and Checklists posted at Tea Time with Annie Kate.
Maureen Sklaroff presents a Weather Unit posted at Homeschool Mo.
Why Homeschool writes a post about the some striking revelation from a college professor: I'm guessing most homeschoolers can tie their own shoes.
EDUCATION
divya presents Getting ready for the first day of Preschool – Part 1 posted at Inside the child, saying, "A great way to prepare children during the summer !"
Michelle presents A-MAZE-ING Sunflowers! posted at Holistic Homeschooler.
Ann presents I is for Investigation – ABCs of Homeschooling posted at Harvest Moon by Hand, saying, "I'm participating in an ABCs of Homeschooling weekly blog hop. This past week we looked at "I is for…" and I thought that the word "Investigation" best describes our homeschool."
Jennifer Bardsley presents Muzzy, a review | Teaching My Baby To Read posted at Teaching My Baby To Read, saying, "Our experience with the popular (but expensive) BBC language program for children, Muzzy."
Victoria presents You'll Ruin it for the Rest of Us posted at Teaching Mommy, saying, "Why it's so important to follow state homeschool regulations."
Susan Ryan presents Dirty Deeds posted at Corn and Oil, saying, "An Indiana newspaper exposes how homeschoolers' good name is being mis-used to collect federal education funding. Thank you for doing the carnival and I hope you consider my submission!"
FLeonard presents A Fork in the Road: Do Rites of Passage Matter? posted at A Fork in the Road, saying, "I love homeschooling and then every so often I wonder whether there's something my daughter is missing out on."
majellamom presents Native American Unit Study posted at Waiting for Charlie.
Lisa Nehring presents Drama Camp posted at Golden Grasses, saying, "Drama Camp!"
Angela Gray presents Finishing Strong – Team Gray! posted at team Gray!.
Linda Dobson presents A Few Words about Curriculum | PARENT AT THE HELM posted at PARENT AT THE HELM, saying, "Thank you!"
divya presents Weekend, vacation and Science ! posted at Inside the child, saying, "A fun way to help a child know the difference between a Living thing and a Non- Living thing. A good way to introduce biological terms. And some books on Living and Non-Living things."
Dena Wood presents Take it apart ~ put it back! posted at pjsallday.com, saying, "Thanks!"
Lisa Nehring presents Nature Study Up Close and Personal posted at Golden Grasses, saying, "Nature Study Up Close & Personal"
FAMILY
Read Aloud … Dad presents Phenomenal Picture Books: Scaredy Squirrel posted at Read Aloud Dad, saying, "Run … don't walk … to wash your hands with antibacterial soap, because this is one picture book you would be crazy to miss! Scaredy Squirrel is simply incomparable."
Denise presents Drowning Doesn't Look Like Drowning via Mario Vittone « Let's Play Math! posted at Let's Play Math!, saying, "Families need to know: "Drowning is not the violent, splashing, call for help that most people expect. Drowning is almost always a deceptively quiet event. The waving, splashing, and yelling that dramatic conditioning (television) prepares us to look for, is rarely seen in real life.""
Finally, Amy from AmyBayliss.com talks about her growing frustration with her teenagers not understanding the true value of a dollar so she decided to do something about it: Kids Just Don't Understand About Money.