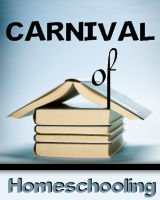 Welcome to this weeks Carnival of Homeschooling!
I want to take a moment to tell you about a fabulous giveaway I have going on. I have one copy of the Times Tales DVD to give away to one lucky commenter. My boys did extremely well using this DVD. It works like no other product we've tried.
I have four boys from toddler to teen and even the toddler was saying the numbers when prompted. My teens did not know most of their upper multiplication facts by memory. They spent lots of time skip counting for homework. I have used flash cards, games, software, you name it, and I haven't had the results Times Tales gave us. I was very surprised to see how well the concept works!
The program provides memory keys  through animation so it is easier for kids to learn their 6-9 multiplication facts. A story is told to reinforce the recognition. In less than one hour they were shouting out the correct answers to the times tables. I drilled them again the next day and they remembered all but 4 or 5 of them. We watched the DVD again and what do you know, when they were drilled days later they got all of them right!
To enter the giveaway, all you have to do is leave a comment. The giveaway will end on Friday at midnight.  I will randomly choose a winner and notify them via email.
 ______________________________________________________________________________
Misty presents If you've ever wanted to learn a little sign language . . . posted at Homeschool Bytes, saying, "Add some foreign language to your homeschool day with this great ASL lesson site."
Alasandra presents A Christian Nation? Be Careful What You Preach posted at History Is Elementary.
Barbara Williams presents 10 Different Monsters that Scare Children posted at Find A Babysitter, saying, "There's something uniquely human about our need to scare ourselves silly. As far as anyone knows, no other species goes out of its way to invent reasons to wet itself from fear. Children have the best imaginations, of course…………………………."
nak presents Shakespeare and the Starlings posted at Sage Parnassus. Come see a fascinating sight of a "murmuration" of starlings.
education
Jamie Gaddy presents Effective Spelling Strategies posted at momSCHOOL, saying, "Spelling can be a tricky subject to get your kids excited about… trying something that is non-traditional can make it easier for all of us."
Miss Nirvana presents Weaving A Pot Holder With a Loop Loom posted at Nirvana Homeschooling. This is a terrific handy craft for elementary students.
Melanie Grant presents Nutcracker on Ice and Homeschooling posted at Mel's Mouthful on Mothering. How you can turn The Nutcracker on Ice into an educational experience and branch it off into a unit study.
Melanie Grant presents How to get your child to read posted at Mel's Mouthful on Mothering. Creative yet simple ways to motivate and encourage your child to read.
Melanie Grant presents How to Journal: Get Ready posted at Mel's Mouthful on Mothering. A fabulous, general tutorial on creating a journal and teaching your children to how to fill one.
Melanie Grant presents Homeschooling Room of Dreams posted at Mel's Mouthful on Mothering. Inspiring home school rooms to get your creativity flowing!
majellamom presents Teaching Textbooks and Xtra Math posted at Waiting for Charlie…. In need of a free online math drill program? See what Majellamom has to say about Xtra Math.
Lisa Nehring presents Educational Influencers posted at Golden Grasses. Come see a wonderful list of people and companies who have helped shape the home school families and community through ideas of educational methods and concepts.
Amy @ Hope Is the Word presents Read Aloud Thursday?music edition posted at Hope Is the Word. A wonderful list of read-alouds you don't want to miss.
Judy Aron presents No Child's Data Left Behind posted at Consent Of The Governed, saying, "If you have ever given information to the local or state government school system then you ought to know about what will happen to that information."
Kelly @ The Homeschool Co-op presents Featured Friday ? Christina Pilkington on A Life of Passion, Adventure & Connections posted at The Homeschool Co-op. Come read an interview of how mom to 5-year old twins, Christina, shares her home school life with Kelly's readers. She lends practical tips and ideas you don't want to miss.
Carol J. Alexander presents More on Marble Tracks | | Everything Home with CarolEverything Home with Carol posted at Everything Home with Carol. Some fun ideas on simple ways your young children are learning physics (without even knowing it).
Linda Dobson presents I Feel Sorry for Kids In School. Every. Single. One. posted at PARENT AT THE HELM. Some sobering facts about the public schools and government.
Laura Grace Weldon presents Better Test Scores Don?t Lead To Success posted at Laura Grace Weldon, saying, "The fuss over testing makes no sense. Boosting test scores doesn't boost individual success. It also doesn't improve national competitiveness. Crazy?"
Chris Shaw presents Part 2: Teaching Economics in the Home School posted at HomeSchool vs PublicSchool, saying, "Once you have a basis for understanding how economics work in your home it is time to look at how they work in your community. What we buy, how we spend our money, and what we save impacts the lives and businesses around us. We can improve our local economy by working with in it and promoting the well being of our neighbors."
Mama Squirrel presents Traveling the Underground Railroad posted at Dewey's Treehouse, saying, "Resources for a fifth-grader's short study of the Underground Railroad"
Katherine presents Baking Success posted at No Fighting, No Biting! , saying "Baking my own no-knead bread was so simple and easy, I wanted to share the recipe."